Williams Toyota of Sayre Recieves the Toyota President's Award!
Each year, Toyota Motor Sales honors its top-performing dealerships as President's Award winners, one of the highest honors any dealership can receive from the automaker. The team here at Williams Toyota of Sayre is proud to have been selected for this award among such a large and talented group of dealerships. We are dedicated to maintaining the highest quality of customer service and sales work that we can possibly achieve.
Toyota sets the standard when it comes to automobiles, and we strive to match that quality at our Toyota dealership serving the Northern Tier of Pennsylvania. We are proud to have won this award for 15 years! Whether you're seeking a new Toyota model, a pre-owned vehicle, Toyota parts and accessories, auto service and repairs or just the chance to check out all the latest models, we are happy to accommodate you.
Toyota dealerships strive to match the quality of our products with the finest service in the industry. In order to qualify as a President's Award winner, dealerships must excel in each of a series of categories, including customer sales satisfaction and customer service satisfaction. Dealerships which meet the requirements in all categories receive name badge recognition at all dealer events, national recognition in Automotive News and, of course, the beautiful President's Award Tiffany crystal trophy. Visit us and experience what award winning service can mean to you!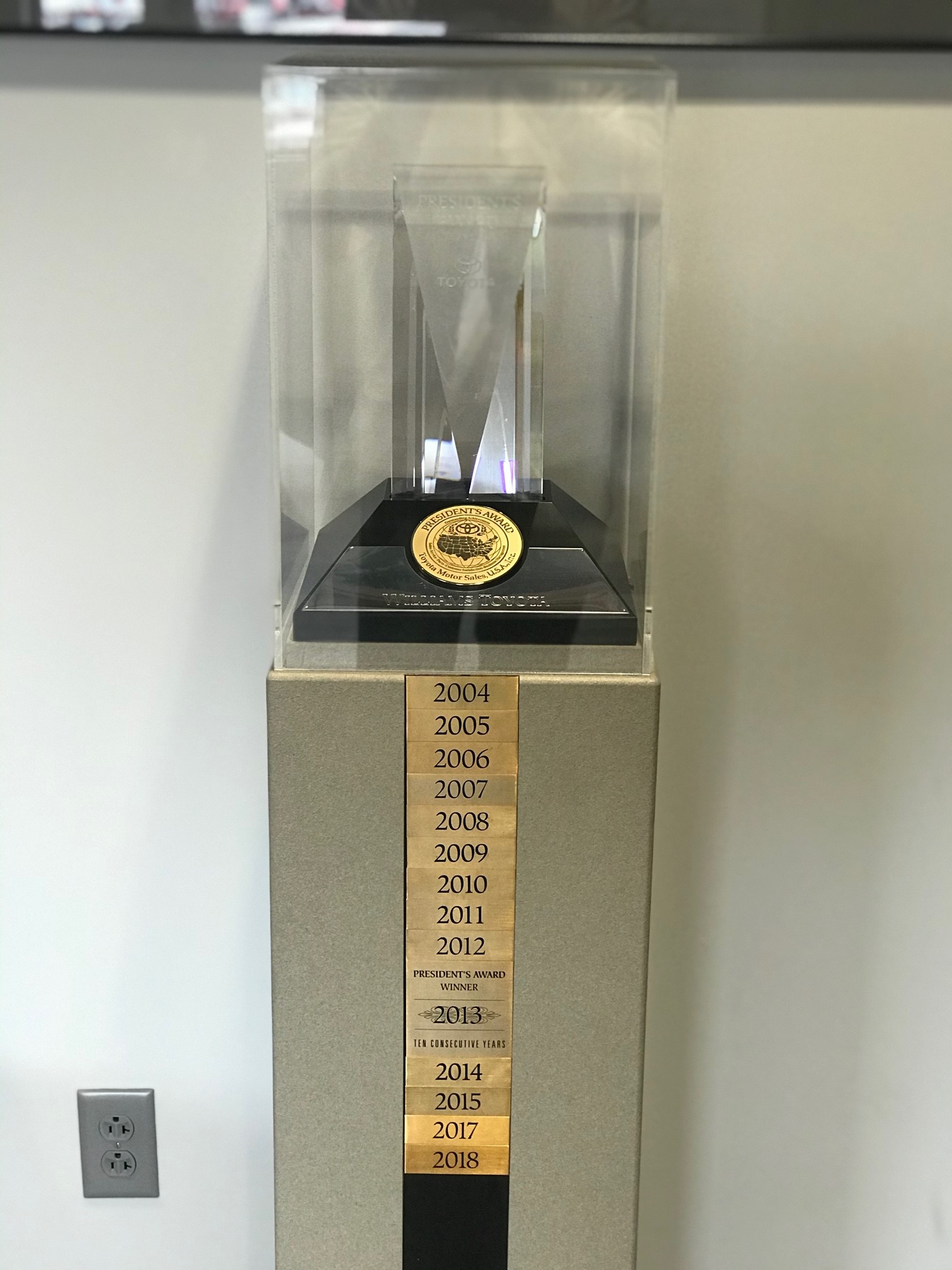 Learn More About What Williams Toyota of Sayre has to Offer!
Testimonials
GOOGLE
5-22-2020
GOOGLE
4-2-2020
CARGURUS
3-14-2020
GOOGLE
3-14-2020
GOOGLE
3-12-2020
Elmira NY First Church of the Nazarene
GOOGLE
3-1-2020
Steve and Lori Stumpfrock
GOOGLE
2-28-2020
CARGURUS
2-23-2020
GOOGLE
2-11-2020
CARGURUS
2-6-2020
CARGURUS
2-3-2020
GOOGLE
1-31-2020
CARGURUS
1-16-2020
GOOGLE
1-15-2020
GOOGLE
1-7-2020
GOOGLE
12-31-2019
YELP
12-13-2019
GOOGLE
11-28-2019
GOOGLE
11-21-2019
YELP
11-20-2019
GOOGLE
11-15-2019
GOOGLE
11-2-2019
GOOGLE
10-29-2019
GOOGLE
10-22-2019
GOOGLE
10-18-2019
GOOGLE
10-6-2019
GOOGLE
9-30-2019
GOOGLE
9-28-2019
GOOGLE
9-28-2019
GOOGLE
9-13-2019
GOOGLE
9-12-2019
GOOGLE
9-12-2019
CARGURUS
9-6-2019
GOOGLE
9-5-2019
GOOGLE
9-3-2019
GOOGLE
8-29-2019
GOOGLE
8-29-2019
GOOGLE
8-29-2019
GOOGLE
8-29-2019
Read More